site-page
Focus on your customers – not the tech
White Label Loyalty is the dedicated enterprise loyalty and retention platform that just works. Build a deeper relationship with your customers – without drowning in tech.
The simple solution for complex needs
We know enterprise loyalty and engagement programs are complex. But with our smart technology architecture, they are simple to launch and run! No matter if you need a long or short-term loyalty and rewards program or a brand campaign tech, here's what we can offer you as your solution provider.
The loyalty experts
At WLL our sole focus is, and always has been, loyalty. We're 100% dedicated to helping you engage and retain customers and achieve brand affinity
Behaviour-driven
We help you go beyond transactions, to make any customer action or behaviour rewardable using our event-based technology
Faster deployment
Take your loyalty program live in weeks – not months. Reduce your time-to-market, with an out-of-the box solution.
Making the complex simple
WLL is the simple loyalty solution for complex needs. Launch your loyalty program, without drowning in tech - so you can focus on your customers.
Why do 75% of loyalty programs fail?
Our free white paper delves into the key reasons why loyalty programs fail and offers a step by step guide on how to make customer loyalty work for your business.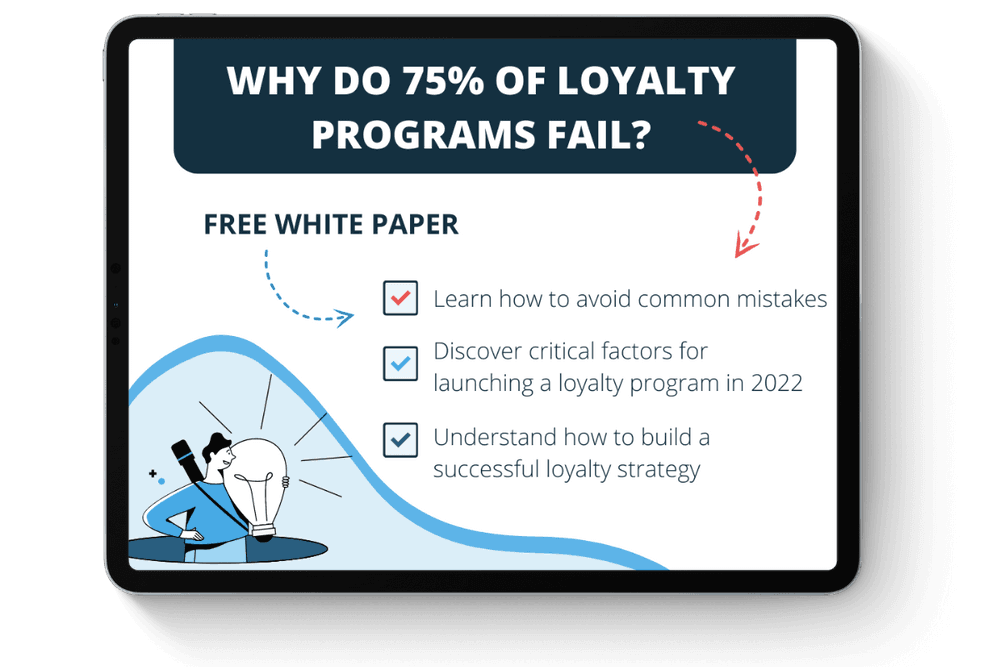 It all starts with data
Build a complete picture of your customers' activity thanks to our signature data-driven architecture. Connect your existing data source such as an ePOS or CRM system or use our in-house card linking or receipt scanning data capture solutions.
See what we can do
Transactions

Receipt scanning, card linked or ePOS data sources.

CRM / ERP

Data from your existing data management systems.

Social

Public social media activity.

Geolocation

Opt-in user geolocation data.
...or anything else!
Our flexible architecture can work with any kind of data source.
Your program, your rules
Get the functionality you need, from day one. Without a single line of code. Configure the rules of your white label loyalty program to reward any kind of customer action or behaviour with points, rewards, discounts and more.
Here's how it works
Choose your interface
We can provide a full end-to-end loyalty solution including our white label loyalty mobile app or microsite interface. Launch 10x faster with pre-built robust systems that your customers will love. Already have an app or website? Our SDK solution allows you to integrate loyalty into your existing system.
Explore our interface options
Promo Code
Customers can redeem promo codes for rewards right in the app.
Push
Reach your customers directly with push notifications right to their device.
Tiers
Configure tiers to reward your most active customers.
Gamification
Create multi-step achievements and challenges to increase engagement.
Content
Add content such as a menu, venue locator or mobile ordering to the app.
Customised
Our loyalty app is completely customised to your brand.
Click on bubbles to find out more
Robust Reporting
Launching a loyalty program is only half the story. It's what you do with the data that counts. Our Loyalty Management Console gives you complete control and insight into every aspect of your loyalty program. Get robust analytics for free with your licence or opt for an advanced package to suit your needs.
Users
View all your program users and segment your userbase by any activity or characteristic.
Rewards
Configure the rewards for your loyalty program and view their performance.
Analytics
Deeply analyse your loyalty data by combining data points to discover trends and insights.
Marketing
Interact and influence your customers through direct push notifications to their mobile device.
Settings
Fully control and configure all aspects of your loyalty program such as reactor rules, point value and customer tiers.
Venues
View how each venue in your loyalty scheme is performing.
Referral
Run an incentivised referral scheme for your most loyal customers.
AI
Predict customer churn and use machine learning to segment your userbase into actionable cohorts, leading to an improved ROI.
Integrations
We want to put an end to siloed systems, which is why we have integrations with a range of popular cloud services and software packages. From CDP, to digital marketing tools and more, we'll make sure you always have a full picture of your customers.
See All Integrations
Our Solutions
Our platform has supported numerous use cases across over 10 different industries. Whether you're after a more traditional loyalty program or need a tech partner for your activation plans, we can support you with our expertise.
Here are some of the most common solutions we offer.
Success Stories
Our technology is used to power advanced loyalty programs from all around the world.
"We approached White Label Loyalty to deliver a loyalty solution that was flexible enough to work across franchises with multiple point of sale systems and in several languages. They successfully delivered a solution that was up and running within our existing app within a few months which is continuously evolving in line with our strategy."
Katrin Anthes - Digital Business Direct Markets Manager - Burger King EMEA