Case Study
Wavin UK
Wavin is the leading manufacturer and supplier of plastic pipe systems and solutions. They offer solutions for above and below the ground projects including plastic pipes for plumbing, waste and sewer systems, roof drainage and more.

The Challenge
In the past the majority of Wavin's ongoing promotional activity was managed with and through its merchant customers. Wavin's own national promotional campaigns, direct with installers, tended to be once a year only and focused on competitions. The possibilities to directly connect with end users and collect data on an ongoing basis, to inform future promotions, were therefore limited. Equally, relying on merchants for customer and transaction data was complicated and inefficient. Wavin needed its own data-driven marketing and loyalty solution that would supercharge the brand's direct to end customer strategy and improve revenues.
The Solution
We created a B2B loyalty solution, via an App, that connects Wavin directly to their end customers (plumbers and installers). Our receipt and invoice scanning technology, integrated into a branded mobile App called 'Wavin Rewards', allows Wavin to reward its end customers for purchasing its products in all stockists' stores nationwide. This is particularly important (and unprecedented) for a company, whose products are available in thousands of points of sale throughout the UK, from large national chains to small independents. It means that Wavin end customers are not limited to buying from a particular merchant – no matter where they purchase, their Wavin brand-related purchases will be rewarded.
Furthermore, our events-based system allows Wavin to create custom rules for when and how Wavin Rewards App users will be rewarded. In addition to earning points for pounds spent, users are also incentivised to refer a friend to the program using our Referral Module. Within the Mobile App, users can choose from a range of rewards provided by WLL's reward fulfilment and voucher management service. All rewards are delivered digitally, reducing the complexity in the rewards' last mile. Importantly, Wavin did a detailed customer research to decide on the rewards their audience would appreciate.
In order to maximise the performance and ROI of the program, Wavin has opted for additional functional and reporting modules. For instance, using the Marketing and Analytics modules provides a much deeper understanding of user behaviour and facilitates a better level of personalisation of communications.
Media Gallery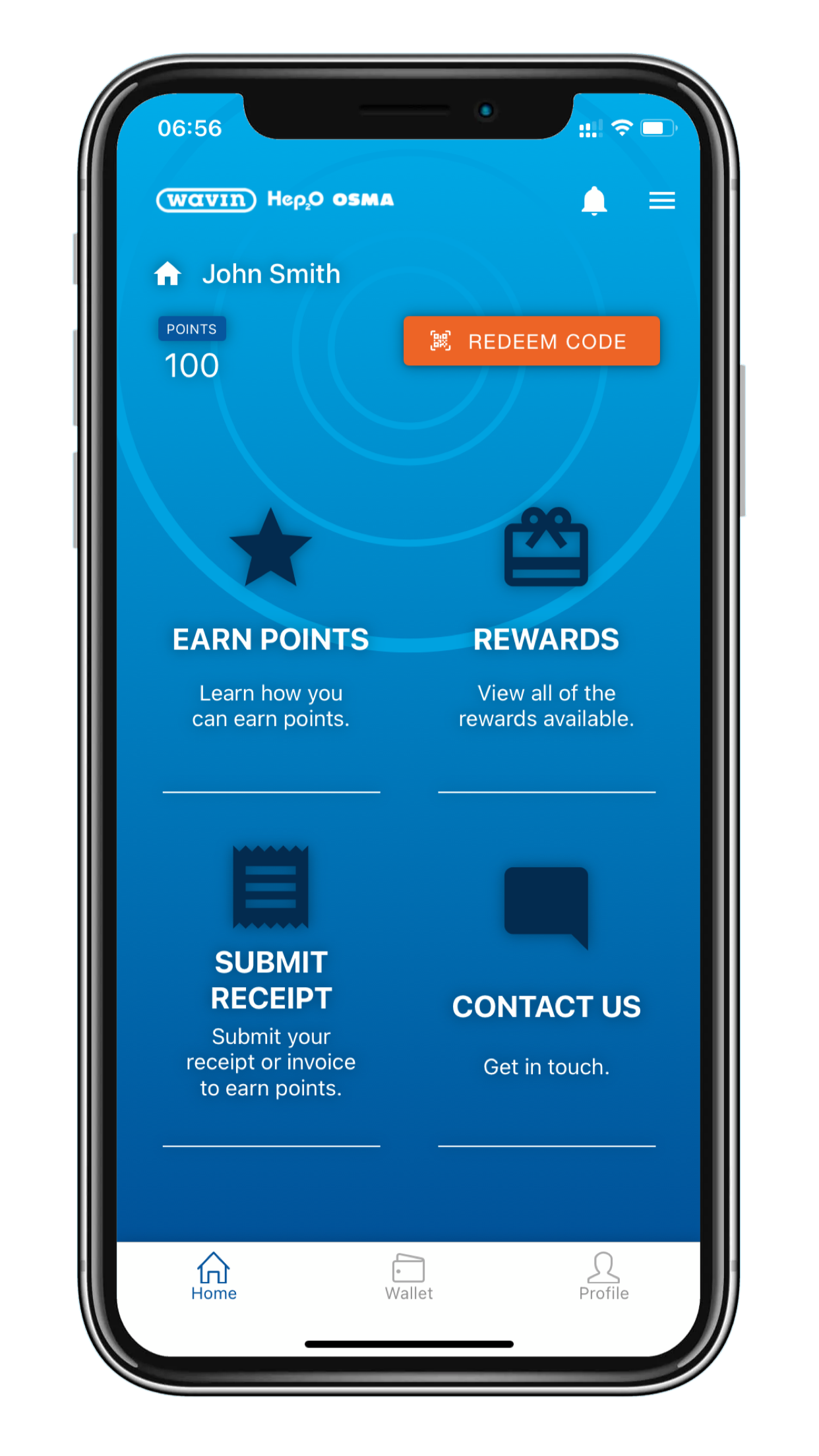 Testimonial
"We chose White Label Loyalty because it had a market-leading loyalty App solution, and technology, which could be customized to our needs and scaled up in the future. The ongoing partnership approach and support of the White Label Loyalty team, openness, and flexibility to develop and refine the solution, have all been key to the successful launch of our Wavin Rewards loyalty program."
Daniela Gould - Marketing Director Wavin UK & Ireland - Wavin UK
Want to find out more?
Get In Touch
Fill in our contact form and one of our loyalty specialists will get in touch to discuss your requirements.