Case Study
La Casita
We scoped, built and deployed an end to end loyalty program for a high end, tapas restaurant chain La Casita together with Pernod Ricard who utilised our full range of solutions to understand, reward and communicate with their customers.
The Challenge
La Casita wanted to go from having no existing loyalty solution in place or database of customers to launching a loyalty program that would allow them to gain a deep understanding of their customers behaviour that offers a seamless and frictionless experience for their customers.
The Solution
In order to give customers the flexibility to choose how they wanted to earn points, La Casita chose to use both our card linking and receipt scanning technologies to capture transaction data, integrated with a branded mobile app and marketing suite.
The Results
La Casita Rewards launched in 2018 and was enthusiastically adopted by customers, with the app reaching the top 5 in the App Store Food & Drink category. Since then the program has grown to over 4000 users who have submitted over 3800 receipts.
1000+
card linked transactions
Testimonial
"The La Casita Rewards app built by White Label Loyalty has got off to a solid start and is a very positive addition to the La Casita brand. We have only had positive feedback from our customers and staff on the look and functionality of the app. The app has been great for brand awareness and mixes us with the likes of the big players in this sector such as PizzaExpress etc. It has definitely increased return custom and we can now track this using the loyalty console and analytics suite provided by White Label Loyalty."
Simon Miller - Co-founder - La Casita
Media Gallery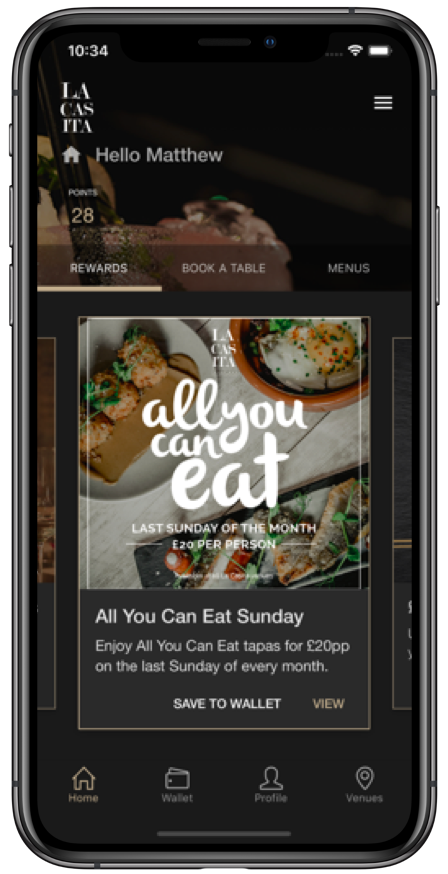 Want to find out more?
Get In Touch
Fill in our contact form and one of our loyalty specialists will get in touch to discuss your requirements.